Central Coast Manufactured Home Villages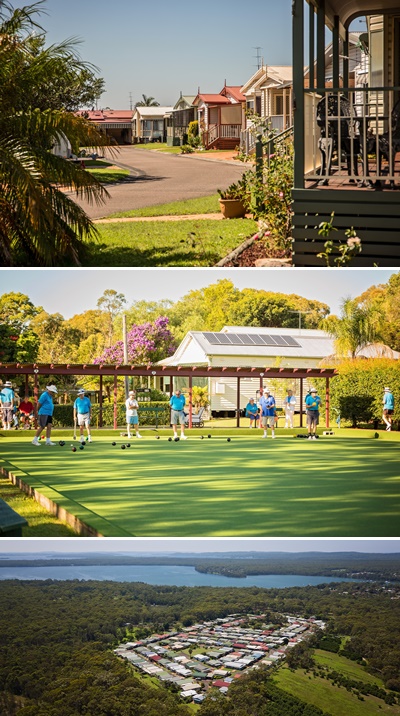 Macquarie Shores Home Village
Retire and Start Living – Manufactured Homes Village Central Coast
Spacious and open plan, Macquarie Shores Manufactured Home Estate is a slice of tranquility in the heart of the growing Central Coast.
Only 50 easy minutes from Hornsby and 35 minutes from Charlestown we offer quality living for the over 50's on the Central Coast.
Close to major new shopping centres, RSL, bowls and golf clubs and hospital, our central location, quiet settings and on-site facilities ensures you retain full independence with access to the security, companionship, facilities and services of a senior living community.
Our village offers a wide variety of recreational and social activities with the peace of mind of high security, low maintenance living, and caring owners and management.
Our aim is for you to enjoy a quality lifestyle, in the company of people of similar age, without the worries of high maintenance and financially draining living.
Self-care housing estates for seniors provide a wide range of services, facilities and lifestyle choices, including leisure and recreational opportunities, that are not restricted to define "retirement villages" but extend to communities united by age and need.
Come and see how pleasant life can be. We welcome you to inspect our village, we are sure you will be pleasantly surprised.
Tall Timbers Rd, Lake Munmorah 
Ph: 02 4358 8451 Fax: 02 4358 8688
Email: [email protected]
Website: macquarieshores.com.au

Morpeth Gardens
A Serene And Secure Lifestyle
Morpeth Gardens is locally owned and operated modern affordable lifestyle in the beautiful lower Hunter region, bordering the township of Morpeth.
At Morpeth Gardens it is our vision to develop & construct an eco-friendly, serene and secure lifestyle village, with the latest modern facilities, to suit your personal needs.
Morpeth Gardens is just two hours drive north of Sydney, 15 minutes to Maitland Railway Station, and 30 minutes drive to Newcastle Airport.
Our Homes
Free standing architecturally designed 2 and 3 bedroom homes to suit your needs.
You can select from our range of architecturally designed homes.
Our experts will advise you through the design journey, every step of the way, and prioritise the sustainability and affordability of your new home.
At Morpeth Gardens we are the builder.
We are now offering homes with everything from air conditioning to landscape gardens. 
Please contact our friendly team about any queries or questions you may have. We look forward to hearing from you.
39 Metford Rd, Morpeth 
Ph: 1300 338 533
Email: [email protected]
Website: morpethgardens.com.au
Lakeside Leisure Village
Phone: 4358 8925
Bevington Shores
Phone: 4390 9267
Meander Village
Phone: 4352 1371
Kincumber Nautical Village
Phone: 4368 1222
Lake Munmorah Residential Resort
Phone: 1800 111 114
Teraglin Lakeshore
Phone: 4358 8267
Kangy Grove Estate
Phone: 4362 2444
Terrigal Sands
Phone: 0424 650 687
Sunnylake Shores
Phone: 1300 221 149
Bayside Gardens Lifestyle Village
Phone: 4369 3406
Terrigal Waters Village
Phone: 4384 4718
Parktrees Village
Phone: 0414 435 554