Central Coast Removalists
Central Coast Business Directory
Central Coast Removalists
Please browse through our listed businesses.
Central Coast Removalists Central Coast Removalists Central Coast Removalists Central Coast Removalists
Norm Eacott Removals and Storage – Local – Country – Interstate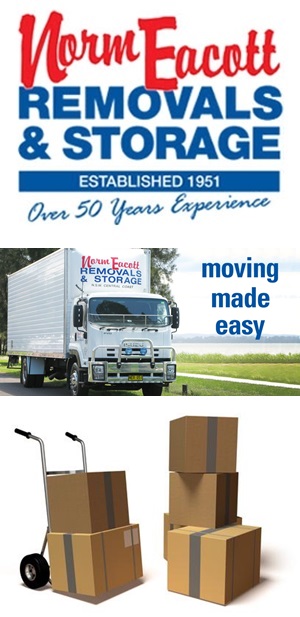 Norm Eacott Removals & Storage is the oldest removal firm on the Central Coast of NSW.
We are family owned and operated and established in 1951 in Gosford, so when it comes to removals and storage on the Central Coast, we know our stuff!
The owner, Klynton McWilliam, is responsible for the day to day running of the business and when you call, you are welcome to speak to him personally or one of our friendly, helpful staff, 24hours a day, 7 days a week!
No move too small or too big!
Our highly experienced team of removalists will cater for your removal in the most professional manner that will have you impressed from start to finish. We supply all the required equipment for your move, from portable robes to ensure that your clothes do not get creased, along with all the required paper, tape and packaging boxes.
Norm Eacott Removals also provide an additional services such as:
full pack and unpack service
specialist antiques move / piano moves
vehicle transportation (cars, trailers, motorbikes, boats)
Norm Eacott Removals can also provide modern, fully alarmed storage facilities in a secure compound for your peace of mind.
Ph: 02 4389 4089 Mobile: 0417 152 861
Email: info@eacottremovals.com.au
Web: www.eacottremovals.com.au
A Man In Demand Removals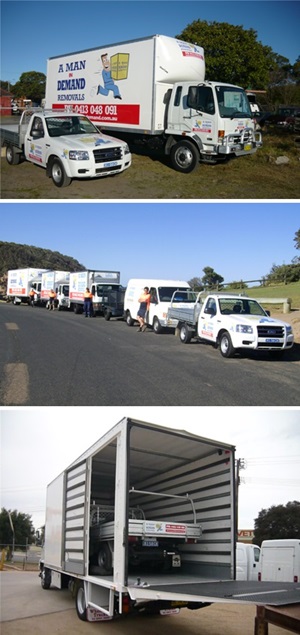 Put yourselves in the safe and capable hands of A Man In Demand removalist team who make moving house seem effortless. The Central Coast based team has eight vehicles to choose from, for small through to large jobs and pride themselves on their prompt, professional and efficient service. Removal services start from the reasonable rate of only $65 per hour.Why choose A Man in Demand:
A positive, can do attitude comes with every job
Many years experience adds up to efficiency and skill
Value for money with a streamlined service
An easy to park 2 tonne transit van with trailer for small jobs
Two 6.5 tonne trucks with tail gate lifter for budget jobs
Two 10 tonne trucks with tail gate lifter for bigger jobs
A 12 tonne truck with tail gate lifter for biggest jobs
We can do your packing and provide storage as required
Sydney runs a specialty
Prompt and efficient
Good humour included in the package
Pensioner discount available
Sydney to Central Coast Specialists

*

Free boxes conditions: Boxes must be paid for and a 100% refund issued on their return to our depot)
Please visit our website for more information and to utilise our space calculator to estimate your load.
Ph: 02 4342 2991 Mobile: 0413 048 091
Email: admin@amanindemand.com.au
Web: www.amanindemand.com.au